Nalla Vijay, a weaver from Rajanna Sircilla weaved a magic which left many spellbound. Continuing his weaving tradition and mastering the skill, Nalla Vijay weaved a saree, which can be packed in a matchbox and it was presented to Education Minister P Sabitha Indra Reddy in the presence of Handlooms Minister KT Rama Rao here on Tuesday.
"I have always heard about the skill of weavers, who can weave a saree that can be packed in a matchbox. I am glad to witness such a saree from our own Sircilla," said Education Minister P Sabitha Indra Reddy.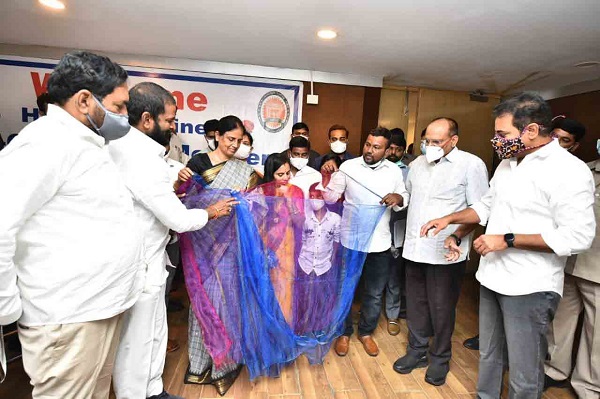 The Ministers complimented Nalla Vijay for his skill and sought all the details of weaving such a wonderful. "Measures taken by Telangana Government have yielded good results in the weaving community in Sircilla. Weavers are now exploring advanced weaving technologies, looms and methods," Nalla Vijay said to the Ministers.
Sharing details of the efforts that have gone into weaving the saree, he said it takes about six days to weave the saree on a conventional loom but if it was weaved on a power loom, it would take two days.
In terms of cost, he said it costs about Rs.12, 000 for a saree weaved on a conventional loom and it would cost nearly Rs.8, 000, if it was done on a machine.
Appreciating Vijay's skills, Handlooms Minister KT Rama Rao said all support would be extended by government to his attempts in future. He specially invited him to participate in the inauguration of a unit in Sircilla.